After almost 10 years this website features a new theme, Kon-Tiki. I started working on this quite some time back, but various priorities kept pushing this to the back-burner until I finally decided to go ahead and release it live on a couple of my sites. My personal page has had this for over a month now, and today this website cuts its final tie to Suffusion, which had been on this site since 3rd August, 2009.
Not Suffusion
Kon-Tiki is, in many ways, different from Suffusion. For one, when Suffusion started out:
The default WordPress theme was Kubrick
There was no Theme Review Team
WP didn't have custom headers, custom backgrounds, inbuilt menus, featured images, custom post types, post formats, a Customizer, visual editing (aka TinyMCE), or Gutenberg, just to name a few big items
Even when features were introduced they took really long to stabilise. E.g. for a long time menus could not automatically depict the page hierarchy
"Responsive design" was a fad. I still think it is not properly done, but I am probably a singular voice of dissent
Suffusion bridged the gap in several of these areas and remained the ultimate theme for customization for a really long time, but gradually got harder to maintain, particularly given the ever-rising barriers from the Theme Review Team.
Kon-Tiki on the other hand comes to the table with many things pre-built into WP, thereby not requiring to set the base for itself. And quite unlike Suffusion, Kon-Tiki is not going to be a super-theme that contains every conceivable piece of functionality. Rather it will only have what is deemed absolutely essential.
Why Kon-Tiki?
As a kid I read about the Norwegian explorer Thor Heyerdahl sailing across the Pacific in 1947 from South America to the Polynesian Islands in a simple balsawood raft. He called his raft The Kon-Tiki, named after the Inca Sun-God Viracocha, whose original name was Con-Tici (or Kon-Tiki). The intent of his expedition was to prove that the Polynesian Islands were originally settled by South Americans and that they were able to make the journey across the vast Pacific with simple rafts.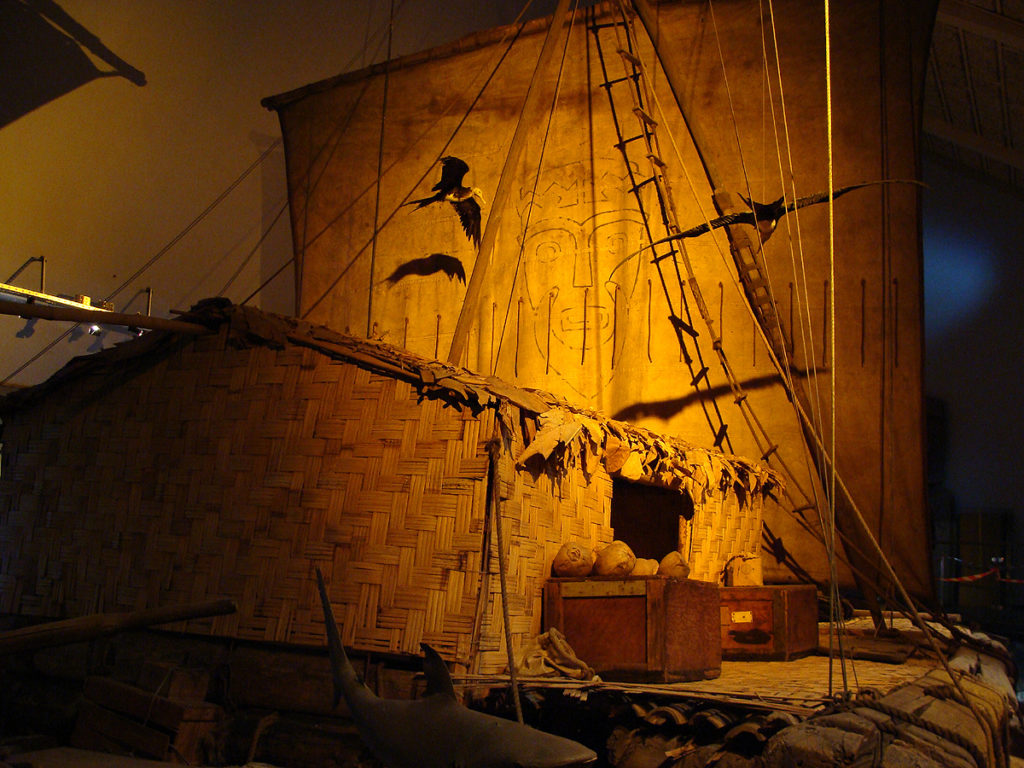 As this theme started taking root my philosophy became that of a journey by a raft (or a lifeboat), where one only gets to keep the bare essentials. I have been ruthless with plugin-territory items and have built in no features that one would consider inessential. To wit:
There are no options to pick fonts, or no options to customize theme skins! Considering that changing a background literally takes 1 line of CSS, it seemed like too much of a burden to put on a theme. What you see on this site has been done using the Appearance → Customize → Additional CSS settings that come from WP.
The theme has no Javascript. That's right – zero JS. Well, it actually does have JS, but that only comes up on IE 9 or older browsers
There are no raster graphics or bloated font-icons. For all its goodness, something like FontAwesome loads up huge font files on your site, simply to show you some tiny graphics. I have instead gone the route of simple inline SVG icons
There are no blocks or shortcodes
The unminified version of the stylesheet is 31KB
Consequently Kon-Tiki is considerably lighter than Suffusion.
Nonetheless there is a lot of power behind the theme. After all, a simple raft would find it hard to sail across the Pacific if it wasn't well-made! So it supports various layout features and a bunch of other smart options that give you control over your content.
Not Yet Released
If you are looking to download the theme, it is not yet available. Anywhere.
For starters it uses features that require at least PHP 5.6, and though WP has made an announcement, there are still multiple users on older versions. I tend to find this out the hard way when some Photonic feature inadvertently breaks for older PHP versions. I may submit this to the WP repository once things stabilize on that front. My biggest hesitation about this is the stream of absurd decisions that the WPTRT makes about what can or cannot be in a theme. And for all their talk about the Customizer API being very easy, it is unadulterated crap.
I haven't made this available on external channels like GitHub either because there is still some work that needs to be done, such as better header support, and support for some essentials. In addition I am building out a "Kon-Tiki Survival Kit" plugin to support some font-management options, skins and plugins such as WooCommerce. After all, even when Thor Heyerdahl and his crew sailed they used some modern equipment like radios, charts and sextants!
Welcoming your thoughts on this!